We can not even say or write the word "God" "Allah" "Yahweh" "Jehovah" without being immediately wrong.
Perhaps, one day theists and atheists will be able to agree on that statement. Because if your a believer and you think that God is infinite than you can understand that there is no way a finite mind can understand it. So words about the infinite are meaningless. And if your an Atheist you don't believe in a creator at all so the words point to nothing.

There is no God but no-thing.
It is the ultimate contradiction such that we can only look in awe at the mere concept of infinity. It is something literally beyond belief because it is completely beyond logical understanding. So nothing at all can be said about it that is either true or false.
To look at the mere concept of it too long through the lens of rational thought is suicide and madness like staring directly into the sun. Just ask mathematician Georg Cantor.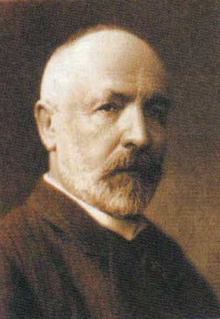 Its fair to say that what ever event, situation, point, being, incident, accident created us, is our "creator". For a true skeptic, "creator" is perhaps too much to commit to, but it is fair to say some phenomenon started what we are now experiencing. Language and mathematics can only go so far in explaining the phenomenon because no matter how accurate and/or beautiful it sounds, it is still just a symbolic representation of what is really going on. Symbols and language are our revolutionary methods of interfacing, but also the walls that box us into our filtered little worlds for this reason the wise realize that they really don't know much of anything.
Whether you are atheist or true believer or somewhere in between we can all agree that something or nothing we can currently understand began what we now experience. We are the seeds of that amazing occurrence; we are the fruits of something (nothing?) that originated time/space matter and energy. We are of something that is much greater than matter, space, time, energy. Why shouldn't we access that greatness? A better question is How can we?
The Universe Allows Extinction and Genocide
I watched a movie called "Sometime in September". It is a very sad and moving movie about what happen in Rawanda in the '94 in which nearly 1 million Tutsi's and moderate Hutu's were killed. The most power part for me is when the Hutu extremist sought to divide up a girls Catholic school by Tutsi & Hutu and the girls told them "We are sisters" and died together.
The movie made me think of other atrocities such as slavery and the holocaust. I thought of the 6 million Jews that were killed in Nazi Germany and about all the genocides and extinction level events that have been successful in this planets history. It is clear to me that there is some natural order of things that does not respect any individual, group or species. But the irony is that the human mind at its full potential could really survive and/or conquer most of natures destructive events (including our very own self-destructive tendencies). I don't believe that Rawandan genocide had to happen (and could have definitely been stopped quickly), the holocaust did not have to happen, and humanity does not have to self-destruct or be taken out by catastrophic events.
Unfortunately, our greatest fault is that we (as a species) do not value life enough. We value our OWN lives (little egos) but can not usually see too far beyond that. I'm sure it will be different one day, but currently, we are a species that values our own egos over life itself and that is very sad. Life is the most valuable commodity on this earth.
We are the miracle we have been looking for. There is no God but the light of life shining within each of us. The body dies but life is an energy subtle enough to be called "nothing" that can neither be created or destroyed. We are that.
Along time ago people lived in constant fear that a deity would smite them should they do wrong. Every civillisation had some onipotent force who ruled their life and ruled their hearts. But as time passed people evolved, they grew and understood. They asked where was this "God" in times of need a worry? Why did the "Sinners" not be struck with lightening like those in the old stories? And they understood slowly that this "God" Whether he existed or not, was no longer with them. God had Died.
Thats what I would like to say about society.

 But instead all I can say is that people never really moved on from these dark times. So many people still fear the wrath of a Shadow. A story. A legend.
 
 I don't want to go on a rant like so many people do on this forum. I don't want messages filled with hate or Zeal or ignorance. I want an intelligent discussion on why people think a God or power external to them, exists. What is the cause of it, and is there anyway to retain these beliefs, but avoid the negativeside effects like Terrorism, unwanted births etc…etc.
 From conversation on stevepavlina.com/forum
I think what is dead and/or dying are the symbols that point to something greater.  But that is not necessarily a bad thing.  Unfortunately, people worship the symbols and forget what those symbols point to.  Words like God, Allah, Jehova are symbols and hold ZERO relevance outside of their respective contexts (bibles, stories, korans, torrahs).  They are mere pointers to explain something greater.  For science "something greater" is evolution, species survival, the big bang… none of us has answers, all we have is perspectives of what is real.
But we ALL know that "something greater" definitely exists. 
Take a look at consciousness:
Some would reduce awareness to the side effect of the human brain, but there is something very special about consciousness.  Given time and the knowledge, is there any doubt that humans will eventually be able to manipulate the solar system and the surrounding universe.  What can't be done with a sentient mind? 
Is it such a stretch to believe that there is a sentience beyond humanity?  With billions of stars (some of which we now KNOW can harbor life as we know it) is it such a stretch to believe that some life can do what we can do and more. 
Our know universe (that which we can currently perceive) has a begining, a middle, and an end.  Something (be it sentient, accidental, or natural unexplainable phenomenon) started the universe.  That (whatever it is) could be called God.
 
Transcranial Magnetic Stimulation is the next step in the evolution of entrainment.  Instead of using sounds to influence brainwaves, it uses noninvasive electromagnetism. 
Sound entrainment has been used to coax brainwaves into a certain pattern. 
If a tuning fork designed to produce a frequency of 440 Hz is struck (causing it to oscillate) and then brought into the vicinity of another 440 Hz tuning fork, the second tuning fork will begin to oscillate. The first tuning fork is said to have entrained the second or caused it to resonate. The physics of entrainment apply to biosystems as well. Of interest here are the electromagnetic brain waves. — Science of Binaural Beats Brainwave Entrainment
Transcranial Magnetic Stimulation (TMS) is the application of variable magnetic fields to the brain — Open-rTMS 
Transcranial Magnetic Stimulation is a VERY effective way to induce states of consciousness:
BBC article on Dr. Persinger's TMS helmet 

How does Dr Persinger induce artificially religious experiences in his patients?

Dr Persinger has designed a helmet that produces a very weak rotating magnetic field of between ten nanotesla and one microtesla over the temporal lobes of the brain. This is placed on the subject's head and they are placed in a quiet chamber while blindfolded. So that there is no risk of 'suggestion', the only information that the subjects are given is that they are going in for a relaxation experiment. Neither the subject nor the experimenter carrying out the test has any idea of the true purpose of the experiment. In addition to this, the experiment is also run with the field switched both off and on. This procedure Dr Persinger claims will induce an experience in over 80% of test subjects.

What sort of experiences do subjects report?

This is very dependent on the belief system of the individual subjects [ADDED Wilber-Combs Lattice]. Dr Persinger talks about his subjects feeling a 'sensed presence' – feeling that somebody was in the chamber with them. Subjects who are strongly religious are likely to interpret this presence as god. Whereas, atheists may also report a 'sensed presence' but attribute the phenomena to a trick of brain chemistry, perhaps comparable to when they have taken drugs in the past.
TMS is so effective that "Among more sensitive individuals, tests show that their skin will turn red if they believe a hot nickel has been placed on their hand. That's a powerful psychosomatic effect of the brain on the body. Suppose we could make it more precise?" — This is Your Brain on God, Wired.  
TMS is currently in the hands of reductionists who believe that ALL mystical experiences can be summed up by electromagnetic disturbances.  Mass sightings up UFOs and other strange phenomenon are simply chemicals in our brains being influenced by electromagnetism.  
Perhaps inducing certain electromagnetic frequencies allows our biominds to access a perspective of reality we would not have otherwise been privy too without years of meditation.  Like devices that allow us to see infrared (frequencies that are beyond our normal domain of visible light), perhaps getting to certain states of consciousness allow us to "see" things we are normally oblivious too.    
Science and religion used to fully subscribe to a flat earth the was the center of a static universe.  We have found the complete opposite to be true.  Modern mainstream scientists now agree that we are likely the only sentient life and there are no subtle spiritual type energies and all spiritual experiences are completely the product of the human brain.  All of that seems just as ridiculous as a "flatworld" theory.  A neo-atheistic reductionism is fine as belief systems and religions go, but what I don't like is how science marginalizes anyone outside of their mainstream belief structure. 
I love science but its champions seem to have fallen prey to a dogma that is similar in close minded stagnancy to that of some religious denominations.       
TMS links:
This is your Brain on God, Wired. 7-11-1999
God Helmet, Shakti